IMPORTANT NOTICE
I am currently pregnant and due in January with number two and as a result am not currently doing bodywork sessions or taking custom orders. I not sure yet when I will be back to work but will update my blog here on my website and my social media channels when the time does come. Thank you for your understanding.
Elan x
Welcome to EMF Equine NZ!
My name is Elan Fahy and I am a Veterinary Nurse and Masterson Method Certified Practitioner (MMCP) with a passion for creating unique horsehair keepsakes, beautiful competition ribbon pieces and handcrafted equestrian tack.
I live in Whangarei and while most of my work is made to order, I am occasionally hit with the creative bug so I sometimes have premade pieces for sale too. My goal has been to create a range of one of a kind pieces that you wouldn't be able to find anywhere else, so a lot of my products are my own designs - or I have added my own special twist onto existing products!
You can browse my range and shop online here or find out more about equine bodywork and the Masterson Method below. If you have any questions or would like to arrange a bodywork session for your horse (or horses) please email me on elanfahy91@gmail.com.
Elan x
Frequently Purchased
Reins

Bitless Bridle

Horsehair Tail Keepsake

Regular price

from $57.00
What is the Masterson Method®?
As a prey animal, the horse knows instinctively that if it shows pain or weakness in the wild, it will be the first one noticed by a predator or may be left behind by the herd. This still happens in domesticated horses and they will try to hide when they are not feeling 100% in body or mind, as a self-preservation method.
Massage and bodywork is a proven way to help improve your horses health and well-being, and the Masterson Method® is a deceptively simple yet powerful technique to help achieve this.
This is a unique and interactive 'light-touch' method of bodywork developed by Jim Masterson. It uses the responses of the horse to find and release accumulated tension in the body. In contrast to traditional massage, it enables the horse to actively participate in the process of releasing tension. It is something I do with the horse, rather than to the horse. By using these techniques I am able to help reduce tension, stiffness and pain and with regular sessions I can help your horse maintain a soft and balanced body and mind.
To find out more the Masterson Method® techniques you can contact me via email or visit http://www.mastersonmethod.com 
When is bodywork right for your horse?
If they are experiencing tightness or muscle soreness.
After an accident, even if the horse appears to be normal and moving well - often symptoms won't start to show up for several weeks afterwards.
They are moving with stiff, uneven or uncoordinated gaits or are reluctant to move.
Displaying unusual behaviour or they may have become overly sensitive.
If they have experienced recent emotional trauma.
After the winter months when there has been lots of mud - when there is mud a horse walks very differently, putting strain on its body.
Or you may like to have regular sessions to keep your equines feeling soft and prevent issues from arising.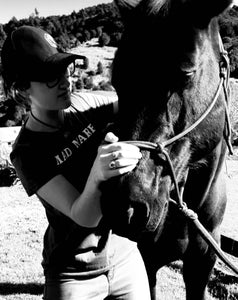 How much is a bodywork session?
A bodywork session is $80 per horse.
Travel charges will apply after 30km from Maunu, Whangarei. This cost can be split between multiple clients in your area. Should a travel fee apply, I will let you know at the time of booking – so no surprises at the time of your horses session!
Payment is cash on the day or an online transfer prior to the appointment time. When paying online please use your first and last name as the reference.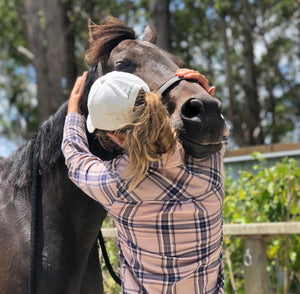 How do I book a session for my horse?
To book a session you can contact me via email at elanfahy91@gmail.com
Ideally a quiet time and environment will be best for bodywork, so please keep this is mind when making a booking. If you do not have an undercover area, it may also be weather dependant. 
The Masterson Method® is a very 'light-touch' and intuitive technique and the time I take for each session will vary for each horse but will generally take anywhere between 40 – 60 minutes.
It is best if the horse has the rest of the day off after a session and paddock turnout is ideal. This way your horse can 'walk it out' and relax properly. You may notice a change in movement or attitude after a session - the reaction will differ between horses so really, anything as there is no normal!
Testimonials
When I first got my new horse home I quickly discovered that she had a few issues…she was so roly poly you could get sea sick when she trotted, although she was very reluctant to move forward! She couldn't canter as she was unable to engage her back leg to get started, couldn't carry herself and had no bend. After a few false starts I got Elan to come and treat her, at first every 3 to 4 months, so we had a good to bad to good cycle…. Then we changed to a regular monthly treatment – what a huge difference that has made, we are now trotting in a frame, cantering and she has become forward moving and lost the roly poly trot. This has a made huge difference to how nice it is to ride her and we are able to ride out with our bigger horse friends and not get left behind. She is a completely different horse now and is such a pleasure to ride, the regular treatments have been the making of her.

Karen Christiansen
I love seeing the way my horses react to Elan when she uses the Masterson Method. My stressy TB has calmed down overall and seems to enjoy life more, which is lovely but also when she had a horrible experience Elan gave her a bodywork session and the instant change was just phenomenal – she went from emotionally and physically tense to soft, calm and looked like she put on 20kg during the session as she relaxed her body. My quarterhorse loves Elan's work so much that by the third session she simply walked to Elan, closed her eyes, dropped her bottom lip and stuck her face into Elan's hands… "Do your magic please healing human." This from a horse who doesn't generally like being touched around the face! She knows a good thing when she sees it!! Thanks Elan!

Huia Minogue
I have found Elan at EMF Equine to be incredible when it comes to customer service! She responds quickly and is really helpful, and does her best to provide exactly what you what. Her products are beautifully made and high quality, and she completes them and sends them quickly. I would recommend her to anyone, and she my first contact if I am wanting to find something for my horse.

Stephanie Reeves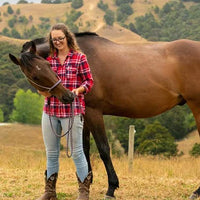 A little bit about me
My horse obsession started when I was about 2 years old, but my
bodywork journey started in 2014 after purchasing my gelding Taz, who turned out to have some long standing body issues. I was working as a vet nurse and had a background in human massage so I started researching equine therapies. Within 6 months I discovered the Masterson Method and was instantly hooked - I love that this technique is so intuitive and it is something I do with the horse instead of to the horse.

Over the years I have also included my love of sewing and creating into my work. My passion is to create unique pieces and custom designs to add that little bit of something extra - especially using horsehair.

Outside of horses I am a stay at home mama and we love to spend time doing arts and crafts, playing outside in the sun or reading.